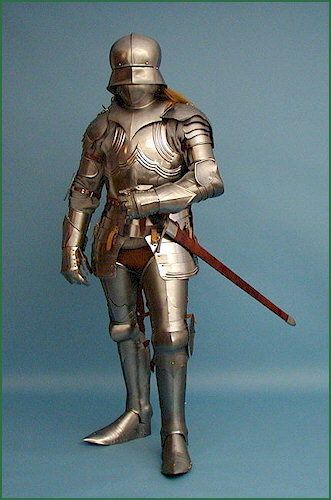 Are you carrying too much around with you?
One of the things that tends to occur when we get into conflict with someone else is that we get hurt.
When we get hurt our inclination is to try to protect ourselves.
We often do this by donning a suit of armour, a protective layer which has the purpose of stopping us receiving further hurt from the other person.
The consequence of putting on the armour is that the other person then sees someone in front of them in a suit of armour, perhaps carrying a sword. This can seem threatening to them. So what do they do, they put on their own suit of armour in case they might get hurt by the armoured, sword wielding person in front of them.
Our experience from inside the armour is that we feel vulnerable and that what we are doing is a good way to protect ourselves. To other people we can look aggressive and possibly dangerous.
We now have two people wearing armour, weighed down by it but also protected by it. Each of them are waiting for the other to stop being so threatening. Neither of them will take off their armour because it is of course protecting them.
We have a situation that can last for excessive amounts of time. My relationship with my dad looked like this and was uncomfortable for both of us for 30 years. 30 years of pain, distress and we and other people being negatively affected. The armour becomes normal after a while, we stop noticing that we are carrying it with us, it's just who we are. In fact it can get bigger and heavier, we pick up more weapons and shields, get a thicker breast plate in case our heart gets hurt.
Clearly it is okay to protect ourselves – especially when an event triggers us into putting on our armour, the question is how long might we want to carry it around with us?
Some situations seem to demand that we keep it in place, situations of abuse or where we are at the lower end of a huge power imbalance. Situations where in our estimation it genuinely isn't safe to remove it.
As a mediator I have individual meetings with people in dispute. Part of what I am trying to assess and that I talk about with them, is whether it is safe enough for them to take part in a mediation meeting with the other party where they might be able to take off some of their armour.
It's always a risk to take off our armour – to show our vulnerability – but it is the only way of creating change.
If you can take the risk of removing a bit of your armour – it invites the same response in the other person. They may not be able to join you but they will feel the difference.
What it does for you is that it makes you lighter, more open and more ready for change.
We often need help to do this, to be in a safe enough environment with sufficient support but it changes our lives when we do it.
Which bit of your armour do you need to put down?